Cultural Digital #206
Lobster dresses, leading and supporting, interactive and immersive, walking, and more.
Hello
This week we have some weird and wonderful dresses, shopping centre ghosts, a game about olde timey surgery, and a sponsored walk with a twist that's just about digital enough to make it into this round-up.
---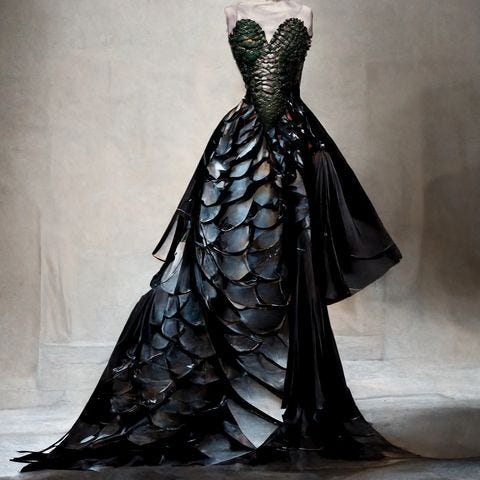 Gary McCann is a set and costume designer mostly working in opera. On his Instagram he's been trying out some AI image generation tools. (Thanks to Helen for the link).
For this one he says "I instructed the interface to generate #ballgowns which feature the overlapping plates of a #lobster #carapace. In the first image I generated the main image and bodice independently of each other and photoshopped them together".
---
Leading and supporting
Tech as Art: Supporting Artists Who Use Technology as a Creative Medium. From the National Endowment for the Arts, this report "examines the creative infrastructure supporting tech-focused artistic practices and provides insight into the existing challenges and opportunities faced by artists and organizations working at the intersection of arts and technology".
Leading the Sector 2022. Culture24 have put up recordings from their recent series of webinars. There's a series of events planned around the UK in September too.
Digital Accelerator. This Bloomberg Philanthropies programme is providing "$30 million to help arts organizations invest in strategic improvements to their technology infrastructure". It's for organisations in the US and UK and, although it's now closed, I just noticed that this page refers to Phase 1, so there could well be more to come.
Interactive and immersive
Interview with Roei Amit, director of the Grand Palais Immersif. The Institut français interviews Roei Amit, who leads a subsidiary of the Grand Palais where the aim is to "produce and disseminate exhibitions using a new, mainly digital, format".
Writing an interactive narrative with Twine. From the Old Operating Theatre Museum: "We recently launched an interactive game, in which the reader takes on the role of a surgeon dealing with one patient's case at the old St Thomas's Hospital in the 1820s. You can find the story here. This blog provides more detail on how it was created".
Bocs. Wales Millennium Centre are opening a dedicated space that's been specially designed for 360 films and projections as well as XR experiences, including augmented reality, mixed reality and virtual reality.
Walking
Radio Ghost is "an audio driven, app-based walking game. You and your team will have to blend in as perfect shoppers to unlock the stories of the mall, following prompts as you navigate a world that knows the price of everything, and the cost of nothing".
Operation Bletchley is a fundraising challenge that's basically a sponsored walk with codebreaking thrown in every 5 miles.
Other
National Lottery Heritage Fund - Strategy survey. The NLHF want "your views on both current and future issues for UK heritage and how the Heritage Fund should respond to these through our future strategy". This is a biggie and it'd be good if some views on digital were represented.
Exhibition Object Data Exchange Model is a framework being developed by ICOM "that will enable museum databases to export objects' data from one system at the press of a button, and import the data into another system at the press of a button".
Arkive is a "decentralized museum curated by its members". They'll be "selling NFT based memberships with added perks, increased access to events/experiences, and amplified curatorial power down the line". Hmm.
---
Thanks for reading. Please pass this on to others if you think it's worth it. I'll be back again with more soon.